A typical coffee mug is approximately 8 to 10 ounces. However, a single or double shot of espresso is much smaller, as the former is just an ounce while the latter is two ounces. If you are using a standard mug for your espresso, you leave a lot of space. Thankfully, there is the demitasse cup, a cup that was expressly designed for espresso. If you are a coffee enthusiast, you may want to know which demitasse cups are available and maybe even choose a favorite. Below, we discuss the different types of espresso cups in today's market.
What is a Demitasse cup?
The word demitasse is a French word that means half cup. Therefore, a typical demitasse cup holds approximately one to three ounces of coffee and is smaller than the standard cup used for everyday needs.
They are typically two to two and a half inches high and come with saucers. They are made of porcelain or ceramic and are traditionally white. However, it is possible to find stainless steel and even glass demitasse cups in various colors and designs today. Today, these cups are as functional as possible, but they can also be displayed in your kitchen if you would like.
It would be best if you chose the right demitasse cup for your needs. However, with so many designs and colors in the market, you may need help knowing where to start. Below, we give some pointers on choosing the best espresso cups and discuss some of the best in the market.
Choosing the Right Demitasse Cup for Your Needs
You are at the right place if you have never had to choose an espresso cup. Below, we tell you what to look at when you finally reach the point where you must choose.
Material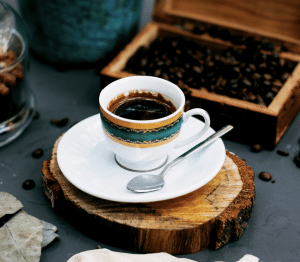 The most commonly used materials for espresso cups are glass, ceramic and stainless steel. While these cups are all beautiful, each of the materials has its advantages.
For instance, stainless steel demitasse cups may be suitable for you if you describe yourself as clumsy or a traveler who needs a durable espresso cup. However, choosing a double-walled design that will not burn your fingers and force you to take cold espresso would be best. Avoid cheap alternatives, as these will likely cause a metallic taste in your drink.
On the other hand, ceramic cups do an equally good job without insulation. They are also cheaper because they do not need to be built with a double wall. Furthermore, they do not reach the unwanted metallic flavor of your espresso, making them a good alternative for those who do not like metallic cups. However, they are much more fragile and better used only in the home. Borosilicate glass demitasse cups are just like ceramic cups.
Size
Another factor to consider when buying a demitasse cup is the size. It would be best to have sufficient headspace between the cup's rim and the top of your drink. Like different types of wines require other glasses, espresso drinkers must consider the size of cups depending on the drink.
For instance, a single or double-shot espresso would require a three-ounce demitasse, while a flat white or cortado drinker would ideally go for a 4 to 6-ounce cup. If you want to brew cappuccino, consider the standard 8 t 12-ounce cup.
The cups are likely to come in more than two sets. Therefore, you can shop according to the size of your household.
Style
Your style should also come into play when buying espresso cups. For example, some prefer classic and timeless pieces, while others prefer more contemporary colors and patterns.
You may want cups with handles, especially if the surface will conduct heat or if you can store them without stacking. However, if you will be stacking your cups for lack of space, those without handles would be best. If you regularly serve guests, buy cups with saucers.
Some of the Best Espresso Glasses on the Market
Below we outline some of our top picks for the best Espresso glasses on the market.
Delonghi Double-Walled Thermo Glasses
These glasses are classic yet stylish and visually pleasing. If you are looking for something other than modern pieces and prefer something timeless, these are suitable espresso cups. These glasses are made of glass, making them ideal for the home setting. It will also be an excellent choice if you live alone or with a partner, as it comes in a set of two.
Stevia Double Wall Insulated Espresso Glass Cups
The next cup on our list is also a double-wall glass cup. These cups come with a handle for people who prefer to enjoy it before their espresso cools down. This is the most functional set you will get.
Apart from their functionality, these cups are dishwasher and microwave safe, making them the best for use in daily life. Thankfully, they can be stacked or stored separately, depending on the space you have at your home.
Furthermore, these cups come in four, making them the perfect companion if you have a small family.
Fellow Monty Milk Art Cups, Double-Wall Ceramic
These cups come from the renowned Fellow brand known for producing functional ceramic mugs for coffee. These cups come in a set of two and will allow you to split a shot with two cups.
While these cups may be too big to be traditionally classified as espresso cups, they are still within an allowable range to qualify.
These Monty cups are a dishwasher-friendly option. Furthermore, the mugs are double-walled for insulation, and this will equally provide proper grip. Despite their premium price, these cups offer excellent service.
Zenco Living Espresso Cups
The Zenco Living espresso set comes with 6 cups in which you can enjoy your espresso. These cups have a large handle, which is crucial if you are looking for comfortable mugs. Furthermore, the cups are double-walled for extra protection.
Unfortunately, you cannot pour boiling water into these mugs; they can easily break if mishandled. However, since they come in a set of six, they are perfect for a family with multiple members.
Sweese 412.101 Espresso Cups
If you are looking for the perfect glass cups for your espresso, the Sweese 412.101 would be ideal. They are made from mouth-blown borosilicate glass.
These glasses are beautiful yet light and stylish. They are also durable and microwave and dishwasher-safe. However, you must secure the cups properly and keep them away from anything heavy or oversized. These cups are perfect for you if you want something other than stainless steel cups that are microwave-safe.
Conclusion
Some people drink espresso from regular eight to 12-ounce cups. However, it would be best if you had a proper cup for your espresso. These cups are better known as demitasse cups. While there are hundreds of demitasse cups in the market, you must find something that suits your style and taste, is the right size, and with suitable material. In this article, we have reviewed some of the best espresso cups. They include the Zenco Living espresso set, the Sweese 412.101, Fellow Monty Milk Art cups, Stevia Double Wall Insulated Espresso glass cups, and the Delonghi Double Walled Thermo Glasses. You can choose among these which one suits your needs.